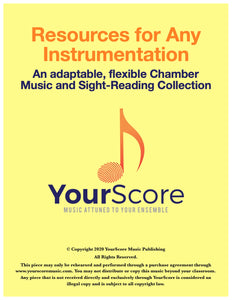 Bundle and save with our best selling flexible resources aimed at Elementary and Middle School bands:
•Trios for Any Instrumentation Book 1
•Trios for Any Instrumentation Book 2
•Trios for Any Instrumentation Book 3
•Sight Reading for Any Instrumentation
That's 50 flexible trios and 1000 sight-reading examples (100 per instrument levels 1-4) for all melodic instruments you can make copies of, post in your virtual classrooms, drop and adapt in any notation software, record and distribute online, and more.
Paying with a PO? No problem! Email hello@yourscoremusic.com and we'll get you taken care of.
From the start, we've believed in creating adaptable and customizable music that is easy to share with your students, and next year is no exception. We know next year will be challenging, and that's why we made the most flexible resources possible for you!