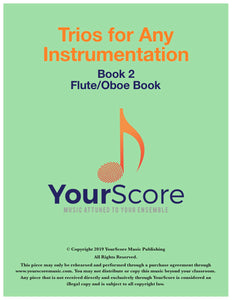 This collection of 20 pieces (roughly Level .5-2.5) are carefully arranged to allow any combination of instruments to play! Although each piece is written out as a trio, the top line and either of the bottom line can be played as a duet for even more flexibility. 
While Book 1 introduced chamber music through homorhythmic arrangements, each of these arrangements are written in a more traditional style, with lines having independent rhythmic elements.
By purchasing the Full Band Set of the trio books, you will also receive the XML source file. This will allow you to create custom booklets and adapt the trios as you see fit to your specific students in whatever notation file you choose.
A Few Notes...
Each instrument book is the same, but written in the range and key of each instrument. We kept the range of all trios to an octave and a third above concert Bb and a third below.
For example:
Flute: Middle Bb-D above the staff and down to low G 
Trumpet: Low C-E at the top of the staff, and a A below
Alto Sax: G on the staff to B above the staff, E at the bottom of the staff
Bass voice books (bass clarinet, baritone sax and tuba) have altered third (lowest) parts to create root position chords at the ends of phrases.
There are two tenor sax books. Depending on the circumstance, we felt the top line could be too low or too high for young players, so we simply provided both. The second and third parts are generally in a good range for tenor sax.
If you would like to see a watermarked copy of a particular book before purchasing, please email us at hello@yourscoremusic.com