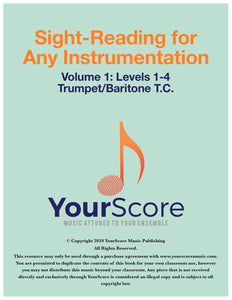 Preview the Trumpet/Baritone T.C. book here
This collection of 1,000 sight-reading examples were carefully written for elementary and middle school musicians. Composed following the New York State School Music Association (NYSSMA) guidelines, 100 examples (25 at each level) have been created and adapted for each of the following instruments:
•Flute
•Oboe
•Bassoon
•Clarinet
•Bass Clarinet
•Alto/Tenor/Bari Saxophone
•Trumpet/Baritone T.C.
•French Horn
•Trombone/Baritone B.C.
•Tuba
Keys, ranges, intervals, time signatures, rhythms, dynamics and articulations progressively increase in difficulty over the 100 exercises, divided into four clear levels. Although written specifically with NYSSMA criteria in mind, these examples satisfy criteria for many state sight-reading requirements.
Upon purchase, you are authorized to make copies for students in your personal classroom. Distribution outside of your classroom is strictly prohibited.