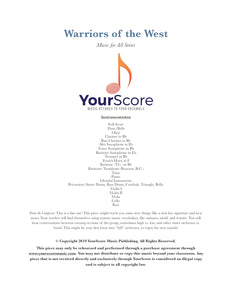 Written by Greg Clark
Difficulty: 1/VE
A rhythmic motif keeps the energy driving throughout this uplifting work! A great introduction to "full orchestra" literature, Warriors of the West is carefully scored to allow winds and strings to play together. A great concert opener or closer!
From the Composer: This is a fun one! This piece might teach you some new things, like a new key signature and new notes. Your teacher will find themselves using mature music vocabulary, like ostinato, motif, and texture. You will hear conversations between varying sections of the group, sometimes high vs. low, and other times orchestra vs. band. This might be your first foray into "full" orchestra, so enjoy the new sounds! 
All YourScore purchases include an immediate download of:
PDF Score and Parts
XML file which will allow you to edit score and parts from any notation software
Piano reduction and chord parts for guitar and ukulele
Mechanical license to record and sell your band's performance to benefit your school music program (please read our FAQ for rules) 
Please note: Backpage Warmups are unavailable for the Music for All Series.