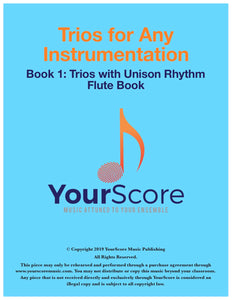 This collection of 20 pieces (roughly Level .5-2.5) are carefully arranged to allow any combination of instruments to play! Although each piece is written out as a trio, they will also sound great as duets providing even more flexibility. 
A unique feature of this collection is that all the pieces are homorhythmic. We have found that starting students out with chamber music that has the same rhythm in each line allows the student to listen for, and practice crucial musical elements including:
Intonation
Blend
Phrasing
Unified articulation
Self-direction
Once students have a comfortable understanding of chamber music, they'll be ready for Book 2 (coming September 15th) and our Holiday Book (coming October 15th)
By purchasing the Full Band Set of the trio books, you will also receive the XML source file which is compatible with most notation software. This will allow you to create custom booklets and adapt the trios as you see fit to your specific students.
A Few Notes...
Each instrument book is the same, but written in the range and key of each instrument. We kept the range of all trios to an octave and a third above concert Bb and a fourth below.
For example:
Flute: Middle Bb-D above the staff and down to low F 
Trumpet: Low C-E at the top of the staff, and a G below (with alternate notes)
Alto/Bari: G on the staff to B above the staff, D below the staff
Bass voice books (bass clarinet, baritone sax and tuba) have altered third (lowest) parts to create root position chords at the ends of phrases.
The Trumpet/Baritone T.C. and Trombone/Baritone/Bassoon book have alternate notes in the third part for some low concert F and Gs (the originals are still provided).
If you would like to see a watermarked copy of a particular book before purchasing, please email us at hello@yourscoremusic.com