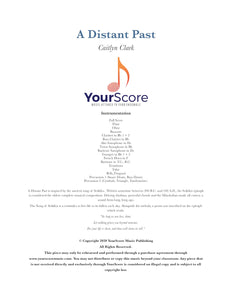 Written by Caitlyn Clark
Difficulty: 1.5/E
A Distant Past is inspired by the ancient song of Seikilos.  Written sometime between 200 B.C. and 100 A.D., the Seikilos epitaph is considered the oldest complete musical composition. Driving rhythms, powerful chords and the Mixolydian mode all convey a sound from long, long ago. 
The Song of Seikilos is a reminder to live life to its fullest each day. Alongside the melody, a poem was inscribed on the epitaph which reads: 
"As long as you live, shine.

Let nothing grieve you beyond measure.

For your life is short, and time will claim its toll."
Please note that chord parts and piano reduction are not available for this title.

All YourScore purchases include an immediate download of:
PDF Score and Parts
"Back page" supplemental exercises for each instrument
XML file which will allow you to edit score and parts from any notation software
Mechanical license to record and sell your band's performance to benefit your school music program (please read our FAQ for rules)